Course details
★ Most Popular ★ 【Domestic Beef Ceramic Grill Steak Course】 120 minutes [Drinking] 8 items 4500 yen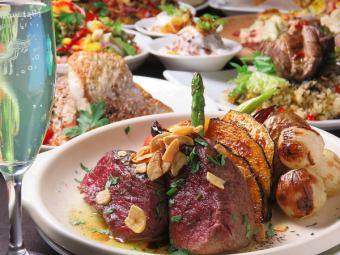 By using a coupon4000 yen
All-you-can-drink available

120 minutes All you can drink (LO 10 minutes in advance)
Reservation deadline

Coming to the store until the desired date of the day 22
Available days for reservation

Monday - Sunday - Public holidays - Holidays
All 8 items 4000 yen (tax exclusion) course including 2 appetizers, green caesar salad, hand sitting pizza.The main dish is a medium rare steak! It is a super profitable course where you can eat steaks boasting our shop!
Course menu
【Example of menu content】
◎ Salmon frit and colored vegetable esca bech flavor source
I put vegetables and seasoning on salmon frit and marinated dish.Because it is compatible with cold beer, it is perfect as a snack.
◎ cold Italian sauce of smoked chicken and red onion
◎ Shakiyaki lettuce and fried onion Caesar salad
Caesar salad that you can taste the texture of leafy vegetables with shaky rusty texture of homemade fried onion!
◎ Sticky rich cheese hands dog pizza marinara
It is a pizza using "sailor" tomatoes, olive oil, oregano, garlic, homemade hand cloth fabric in Italian.
True Napoli pizza is said to have only Marinara and Margherita.
◎ Domestic cow's pottery grilled steak herb salt
Simply salted with herbs salt, domestic beef daringly with Atsuatsu pottery grilled steak !!
◎ flavor potato
◎ Arabicata of fried eggplant and palmigiano
Fried eggplant, fresh tomato Arabiata (pepper flavor in tomato sauce), finish with Parmigiano cheese
It also fits sake!
◎ dessert
※ There is the case that the content is changed by the purchase.
All-you-can-drink menu
·beer
Sapporo draft beer
Beer cocktails
· Shandygaff
·Whisky
· Horn (rock · highball · water split · cola high · ginger high)
·gin
· Jinback · Gin Tonic
·vodka
· Moscow Commander · Screwdriver · Bulldog · Vodka Tonic
Lam
· Rum coke · Lamb orange · Lamb back · Rum tonic
·tequila
· Tequila Orange · Tequila Tonic · Mexicana
Cassis
· Orange · Grape · Pine · Milk
- Lychee
· Orange · Grape · Pine
·blueberry
· Ginger · Milk
·mango
· Orange · Grape · Milk
·banana
· Orange · Grape · Milk
Peach
· Orange · Ginger · Milk
·Matcha
· Milk · Oolong
- Kahlua
·milk
- Unload liquor
Rock whiskey and water, soda
·plum wine
Rock whiskey and water, soda
Shochu
· Potato (white wave) · wheat (Nikaido)
·Soft drink
· Cola · Ginjaya · Orange juice · Grapefruit juice · Pine juice · Oolong tea · Shirley temple · Saratoga cooler · Lemon tonic · Lime tonic
2018/07/23 update